Purchasing a weight rack is a great way to get your home gym into shape, and clear the clutter. Nobody likes walking into their gym and tripping over weights and dumbbells strewn about, and that's why getting a nice, functional rack will add to the overall appearance of your gym. When looking for a good rack, you first need to assess how many weight you're going to be putting onto it. Each rack is built with a different storage capacity, and if you have a more modest collection of weights then you can get away with purchasing a smaller rack. Almost all of them need to be assembled at home, but for the most part this is quite easy to do. They come in different colors and styles, but the most important element is the toughness of the rack. Carrying as much weight as they do, it's best when they're made of durable steel. Racks usually come with multiple tiers to hold your dumbbells. Three tiers is usually enough for any standard home gym. Lastly, you need to find a rack that fits into your budget. There are some models that are definitely more expensive than others, so look for a rack that is tough but also affordable.
Most Popular Weight Rack
XMark Fitness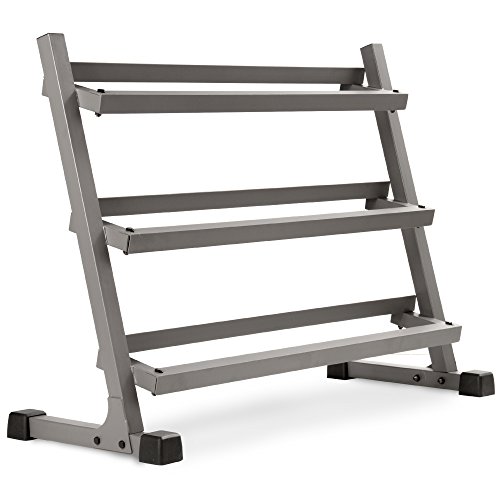 This 4′ tall three tier dumbbell rack from XMark is a fantastic way to finally give those dumbbells a home, as opposed to scattered all over your gym. This stable frame can hold a serious amount of weight, and is designed to safely hold all your hex or round dumbbells in an attractive way. XMark considers themselves to be the "mark of excellence" and this rack clearly shows that. It does what it says, and it does it well. The frame is incredibly stable and built to last. The construction is of heavy duty steel, and all in all the rack just looks nice. If you have a lot of weights at home and you're tired of tripping over them, then spending a little extra money on a quality rack like this one is just a smart idea. Three tiers is really plenty of space, and it's designed in such a way that it's comfortable to place the dumbbells on the rack and then take them off again.
Best Overall Weight Rack
Marcy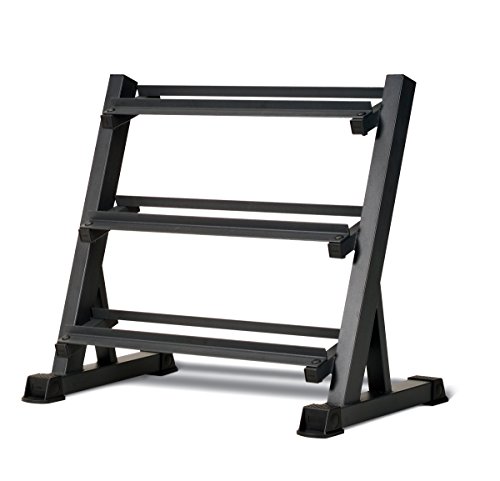 The Apex 3-Level Dumbbell Rack features professional gym-quality construction that is a dependable storage piece for your own home. The three different tiers fit every style and size of dumbbell and the rack features an ultra heavy-duty steel frame and durable powder coat finish. The angled rack design makes it incredibly easy to store all your weights and gain access in a flash. Impex Fitness was established in 1980 and is a highly trusted name in gym equipment and storage tools. The rack is backed by a 2-year manufacturer's warranty, so you can be sure that it's definitely going to last you through the years. It's just the right size to fit compactly in your home gym, and still store all your weights securely and safely. This is an excellent and affordable choice if you finally want to get your gym in shape and clear the clutter of weights and equipment.
Best Budget Weight Rack
CAP Barbell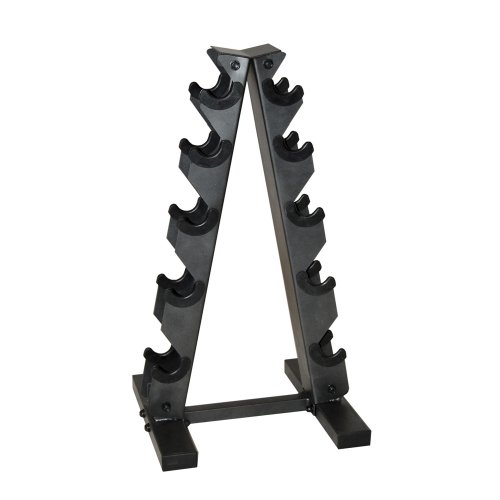 This black A frame dumbbell rack from CAP Barbell is a wonderful choice when you want a storage spot for your dumbbells that isn't too big and clunky. The functional design looks nice with your home decor, and it safely holds 5 pairs of hex, neoprene, or rubber hex dumbbells. It features solid steel construction that is topped off with a black powder coat finish. The rack has a great 200 pound capacity, which is pretty much enough for any home gym. It's backed by a 30 day manufacturer's warranty. All in all, this rack is incredibly easy to assemble, and the A frame design makes it easy to drop off and pick up dumbbells in a snap. The design is also was makes this rack unique, and stand out from the rest. The black color is nice, as opposed to the traditional steel, and it's made from a brand name that everyone can trust: CAP Barbell.