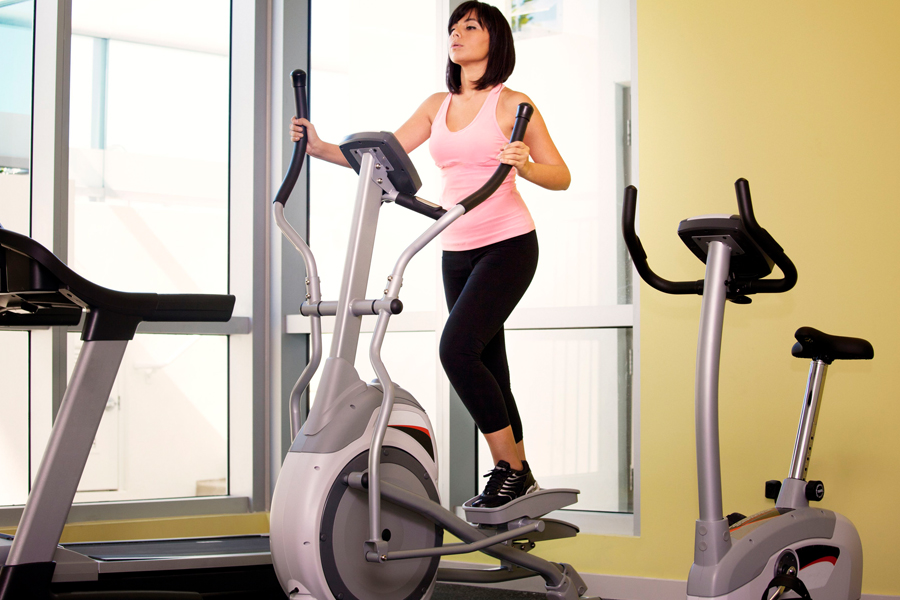 Looking for a low impact but effective workout? Elliptical machines may be the way to go. With elliptical machines you can get a great cardiovascular workout with reduced impact or pounding on your joints when compared to running. Research suggests that total calories burned after an hour long workout in the elliptical can be similar to calories burned from running on a treadmill, depending on the intensity of the workout of course. More and more people are finding elliptical trainers to be an effective way of burning calories while reducing the chances of injury.
Most Popular Elliptical Machine
Sunny Health & Fitness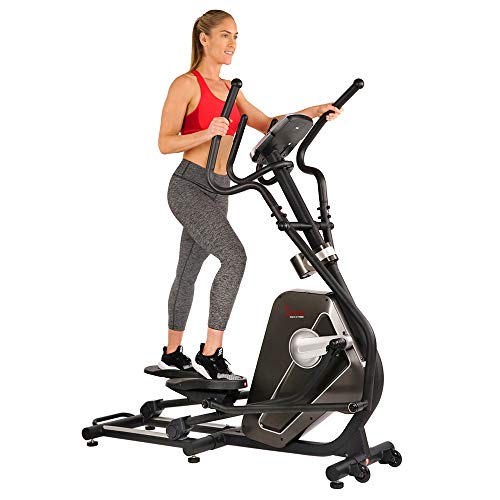 Sunny Health & Fitness emphasizes on building smart fitness equipment by paying attention to the details. This produces the lasting durable exercise equipment users want. They focus on building elliptical trainers that reduce impact and joint stress. Their Six Star Certification reaffirms users that Sunny Health & Fitness ellipticals are some of the more ergonomic, smooth exercise machines out there.
The Sunny Health & Fitness elliptical impresses on many levels. For starters, this elliptical was designed with bio-mechanics research input for the frame, hence the Six Star certification. Users will come to realize rather quickly how natural and fluid the motions are on this elliptical. The workout options are pretty impressive to; users can access up to 12 levels of power incline with 5 percent increments. You can target different muscle groups and up the intensity levels of your workout. It's great for beginners because it lets you begin at any fitness level so you can stay in a comfort zone before working up. There are up to 10 different workouts (like muscle toner, THR Zone, intervals weight loss, Custom plans) providing variety in your workout regimen. Focus on fat burning, endurance tests or a customized workout program. The Sunny Health & Fitness elliptical comes equipped with advanced tracking features, more specifically the profile performance tracking technology. This lets you track workout results like calories burned, time, distance, heart rate and watts. The Polar receiver for wireless heart rate monitoring is another impressive feature when you decide to go hands free.
The flywheel weight comes at a solid 23lbs, stride length at 20 inches, non-slip premium pedal cushioning – good features and measurable for balance and smoothness. The console on this elliptical is 16-digit alphanumeric display, 2 LED feedback windows and an LED progress window. There are some nice entertainment features like iPod / MP3 input, letting you zone out and forget you're exercising. Users also get built-in speakers, which is nice. The Sunny Health & Fitness boasts a solid warranty package, 5 years frame warranty, 90 days for parts and 90 days for labor.
Those interested in buying an elliptical will find a lot of merits with this elliptical machine, it sells for around $529 which is competitive and affordable, it's designed with specific emphasis on natural body movements which translates to reduced joint stress and injury – always a plus among elliptical users. This elliptical has the right number of workout plans and preset programs to meet just about any user, whether novice or expert. There isn't that added option of adjustable stride length which is fixed at 20 inches, a feature that's nice to have but not necessary in my opinion. Plus the grander, more expensive elliptical machines usually have the adjustable stride option making for an added $600-$1000 (on average). There isn't a lock pin to keep children from tampering. A sturdy but not too flashy elliptical with a max weight threshold at 265 lbs., there is no doubt the Sunny Health & Fitness will be a consumer favorite.
Best Overall Elliptical Machine
Schwinn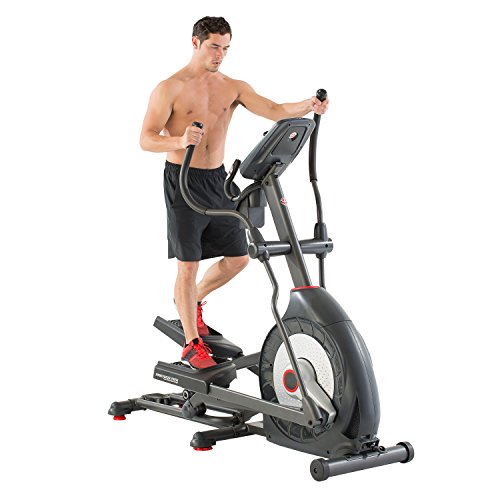 Schwinn continues to make waves in the fitness industry. Their focus on three Cs – comfort, control and convenience has connected with consumers, along with their budget friendly multi- faceted elliptical trainers. Horizon offers an assortment of in-home fitness equipment including elliptical machines.
The Schwinn 470 latest addition in the competitive market of elliptical trainers. With so many elliptical machines out there with established brand names and strong followings – this elliptical has a solid blend of competitive pricing, smoothness and variety.
You'll notice the Schwinn 470, along with many Schwinn products (elliptical, treadmills etc.) boast a SixStar Certification. This is the science and technology behind the natural feel and comfort users experience on this elliptical. Stemming from biomechanics research, the Schwinn 470 model delivers an ergonomic workout keeping them honest with one of their main pillars – comfort. As for control, this elliptical has a heavy-duty flywheel at 14.3 lbs. enhancing fluidity and smoothness in the elliptical stride and motion. Braking system / resistance that's magnetic which also contributes to the quietness of the elliptical ride. It features a longer stride length for wider range of motion.
With the Schwinn 470 model users get 25 electronic resistance levels for more workout variety – along with a manual five position incline increasing your range and intensity levels for your workouts along with varying options. For those who like to set goals, challenge themselves and generally push further, the Schwinn 470 has a really interesting feature called the advanced GoalCenter. This helps users track their progress daily. Couple this with on the fly changes including ten programming options and its easy to see there's more than enough options to keep you challenged and adequately track your progress on your way to achieving fitness goals.
The console is 6.7-inch LCD display with green back lighting. Compared to the display of its competitors, it comes up short. It feels a little cluttered and really leaves room for improvement. The stride length is another issue – it comes at 20 inches but is fixed, for most elliptical users that's fine but smaller or taller users prefer an adjustable stride length so that's something to consider. There's no lock pin with the Schwinn 470, if you're concerned about safety and tampering – this mostly concerns for those with children. This elliptical does allow for rear access and reduced pedal heights (low-10 inch SURE step step-on height) for easy mount and dismount making for easy accessibility. There are some nice amenities – Pulse grip feature allowing you to track pulse rate as you workout by simply gripping the handles, Sonic surround sound speakers along with MP3 features so you can work out to your own special tunes, and a fan to cool you down.
As for the warranty plan, the frame comes with a 10 years warranty; the brakes parts and labor all come with two-year warranties. Schwinn gives you the option for extended warranty plans, one and two years. A solid all around exercise machine, this elliptical is very affordable and offers solid options to keep you in shape and meet your exercise goals.
Best Budget Elliptical Machine
ANCHEER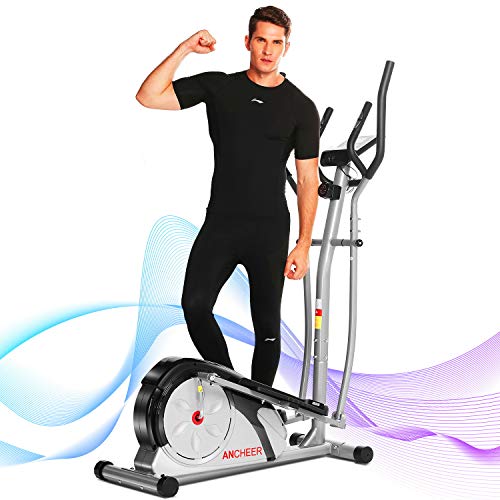 It's no surprise ANCHEER Gold elliptical machines and fitness equipment has enjoyed Best Buy ratings from leading consumer magazines four years in a row. Despite not having the brand recognition other elliptical machines have like Precor or Sole Fitness, ANCHEER Gold has successfully managed to stay relevant in the competitive world of elliptical machines. ANCHEER Gold elliptical machines have a reputation for offering the most complete and challenging workout experience – a workhorse in the industry.
If you're constantly looking to intensify your workout, this is probably your elliptical. If you're a beginner there's no need to be overwhelmed. Given the wide range of options, the ANCHEER Gold is also a perfect starter elliptical for newbie's. There are enough features and programs to cater to those who want to ease into their workout and those who seek a more challenging, demanding workout session.
Users can track results on a green LCD display. This includes total exercise time, incline, intensity, speed, calories burned, pulse rate and total distance traveled. This elliptical provides 15 workout programs, twenty resistance levels and a quick start option, giving users enough options to explore and keep their workouts exciting. There are four added cross-training programs and two custom programs. And if that's not enough, the workout provisions include a Trainer's program package consisting of random cross, manual, interval, and hill climb and sprinting. The ANCHEER Gold elliptical comes equipped with a heart rate interactive program consisting with five options: target, interval, hill, cardio and fat burner. One of its special features is a warm up and cool down function. This added feature is getting more appealing to users. It's been shown to minimize injuries and ease your workout experience.
When this elliptical is engaged, the fluidity and smoothness really stands out. This can be attributed to the incline motor, electromagnetic brakes comprising of fluid resistance and patented linkage design. An added benefit is a workout with lower impact on joints and reduced overall stress on hips, knees and back. To monitor your heart rate, this elliptical provides a hand held pulse sensor on the machines stationary handle bars, the alternate option is a built in compatible heart rate receiver that works together with a chest strap. Both options are displayed on the LCD monitor. The ANCHEER Gold provides a good warranty package and fine customer support. It's a lifetime warranty for the machines frame, a one-year warranty on mechanical and electronic parts, one-year labor warranty and 90-day warranty on wear items.
You won't find added amenities or extras like a built-in fan, bottle holder, speakers or MP3 outlets on this elliptical – but you do get a book holder. Users would also find the stride length is not adjustable coming fixed at 19 inches. Some people appreciate an adjustable stride length especially for the price this elliptical is commanding, so that could be an issue. Still make no mistake; ANCHEER Gold owners get optimum features, ideal comfort and industry leading performance with this elliptical. Whatever might be deemed as a demerit or setback, the ANCHEER Gold more than makes up in the area of usability, variety and total workout experience.