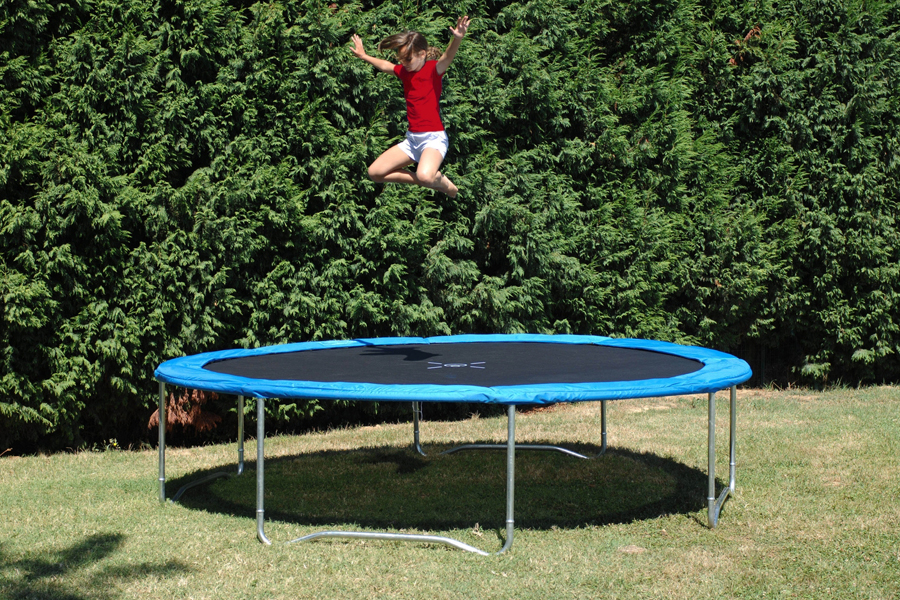 The health and happiness of your children are at the very top of your priority list as a parent. Helping your children eat a healthy diet and exercise to form the foundation for a healthy lifestyle is essential. Technology like video game systems and electronic devices are great to stay connected with friends and keep up on the news, but not so good at getting you exercise. Children and adults around the world love trampolines for their great exercise and fun. They offer a fantastic form of exercise and entertainment for children and young adults. Operation of a trampoline is very simple in comparison to most gym equipment or activity centers for children. The idea derived from early fire fighter nets and circus nets designed for safety. A sturdy piece of material is outstretched and connected to springs and a frame, which is the basic description of a modern trampoline. Simple, yet hundreds of hours of fun exercise are provided by a trampoline.
Most Popular Trampoline
Skywalker
Skywalker is a leading trampoline manufacturer who produces various trampoline sizes to accommodate everyone. This 12 ft. x 12 ft. trampoline is fully enclosed with nylon net walls to prevent falls. The UV protected material is high-grade to withstand the rigors of heat, elements, and continual stress from jumping. The tubular frame uses strong galvanized steel for environmental protection against rust. Steel T sockets connect the main structure to the enclosure frame to assure strength. A 1 inch coated mat covers the trampoline springs for jumper safety.
Skywalker trampolines have a 200 pound weight limit suggested for this model. Safety focused with protective mat and enclosed top make this trampoline perfect for younger children.
Best Overall Trampoline
Skywalker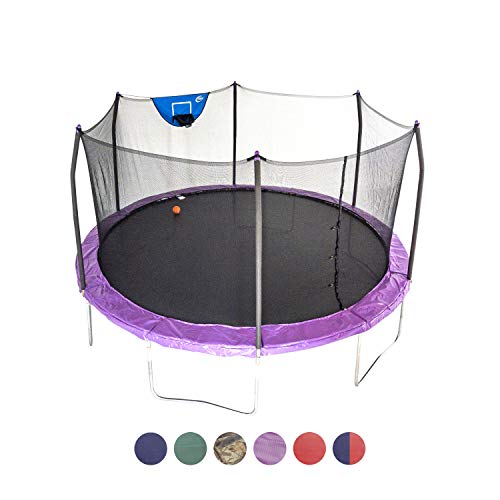 This durable 15 ft. x 15 ft. Skywalker trampoline is great for children over the age of 6. The skeleton of this trampoline is heavy-gauge galvanized steel with six legs for maximum stability. The galvanized steel is perfect for resisting rust and harsh elements for a long-term structure you can count on. Reinforced sockets offer support for the enclosed upper frame and the trampoline frame helping to stabilize the entire outside structure. A durable nylon net encloses the entire top of the trampoline for safety and to prevent falls. A soft mat covers the springs to prevent injury or pinching.
This Skywalker trampoline is designed for children 6 and older with a 200 lb. weight limit. The button-hole design secures a gap free design around the entire enclosure. Jumping surface material and netting are UV protected to withstand sun damage and extend the life of the trampoline.
Best Budget Trampoline
Ultega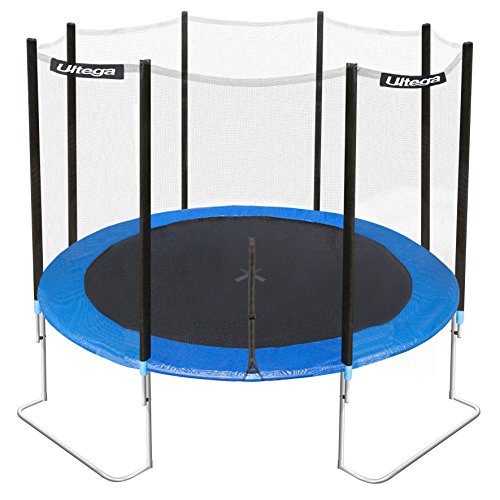 Ultegra produces some of the highest quality trampolines on the market, with some rave reviews. This 12 ft. Ultegra trampoline features a UV protected safety mat and 69 inches high safety net to enclose jumpers. Tubular steel construction offers a galvanized coating to resist rust, and a massive 440 pound weight limit.
Eight padded poles make up the frame for the extra high safety net. 72 extra-strong springs are covered by a protective mat for safety, while allowing maximum height while jumping. Safety and performance are the goals Ultegra had in mind while creating this trampoline and it meets TUV safety directives. Quality of this trampoline is backed by an industry leading 2 year warranty against product defect or malfunction.