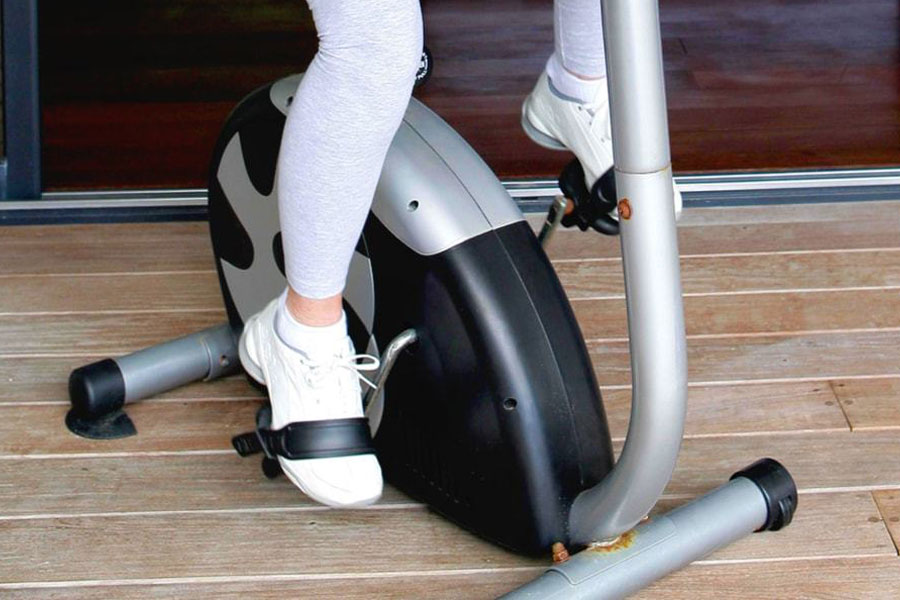 In today's modern world, people are always on the run and your schedule for the day is probably followed by activity after activity. You probably even buy meals to go so that you can save some time and squeeze in more activities. When you reach home you are probably too tired to do anything else rather than go to bed. Due to this cycle, you will often find that you do not have enough time to exercise which is not good for your health,which is precisely the reason that you need a pedal exerciser. The pedal exerciser is often termed as a mini exercise bike. This is because it resembles the pedal portion of the exercise bike as opposed to the whole bike. It is a great tool for exercising when you have a crazy daily schedule and not a lot of extra time. Whether you are a student or work long hours at the office, a pedal exerciser is easy to use and space efficient. Its operation is quite simple, you simply set it up at your feet and pedal away while still taking care of business at the office. You may even set it up on the table in your private time to exercise your hands and upper body.
Most Popular Pedal Exerciser
Sunny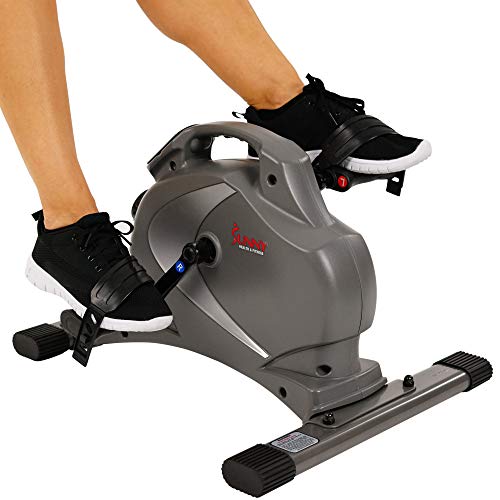 The Sunny is a great exercise bike. It will help you save on space as well as money. It features a progress monitor and tough rubber straps on the pedals for holding the feet or even hands in place while exercising. The exerciser has a knob to adjust the tension and adjust the workout according to preference. The exerciser will improve strength in your muscles as well as cardiovascular health. This exercise bike is highly portable and usable not like those big exercise bikes that are intimidating and take up a lot of space. This exerciser will fit perfectly under your bed or under a desk; the frame is made of 1-inch lightweight tubular steel, which is quite durable.
Best Overall Pedal Exerciser
DeskCycle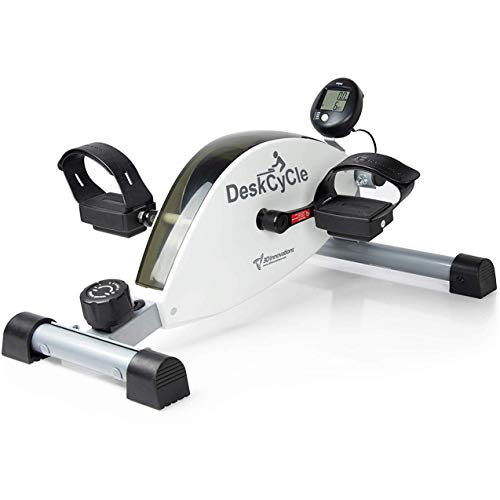 This pedal exerciser is a great pedal exerciser and offers a lowest possible pedal height of just 10".The exerciser is operable on desks that are as low as 27" tall and offers more than 2 times the resistance offered by other exercisers in the market. The device has eight resistance settings calibrated from quite easy to the very advanced levels. The exerciser has a five-function display that displays distance, speed, time and calories burned. It is designed for a typical office setting, hence its name,and is very quiet and not distracting to other workers. When shipped the exerciser weighs 23lbs.
Best Budget Pedal Exerciser
Drive Medical
This is a great folding pedal exerciser with an electronic display from Drive Medical. The exerciser has a scan feature that will display all the measurements and data automatically. The exerciser is designed for both exercising of the arms as well as the legs and has a screw for adjusting the tension. It features a 5-function display for RPM, calories burned, time and the revolution count. The display comes with a button battery cell included. The exerciser has 4 rubber pads at the four corners of the base to protect surfaces and prevent sliding. It has a silver finish and comes fully assembled with a folding design. The peddler is lightweight yet sturdy and when shipped the exerciser weighs just 5lbs.