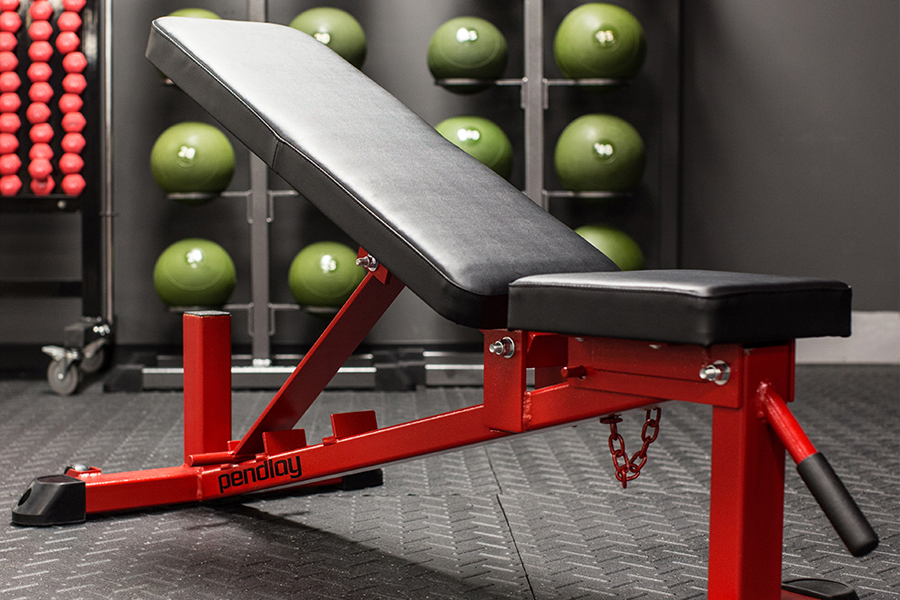 Increasing your core strength is essential to your overall health because it has such a huge effect on your everyday life. Even the smallest tasks, like bending over to tie your shoe, are easier if you strengthen your core muscles. The muscles that are referred to as your core are the muscles in your upper body and include basically every muscle except your arms and legs. There are many ways to train your muscles but a weight bench is one of the most productive training tools to own. You can strengthen your core muscles along with your arms, shoulders, and even legs if your bench has an extension for leg exercises. A great weight bench should have a small checklist of criteria that it must cover to be considered a great bench for you. These are the goals that your weight bench should meet: Does it fit you well, does it allow for expansion and does it do what you want it to do? If it meets the criteria, then it's probably a pretty good match for you.
Most Popular Weight Bench
Marcy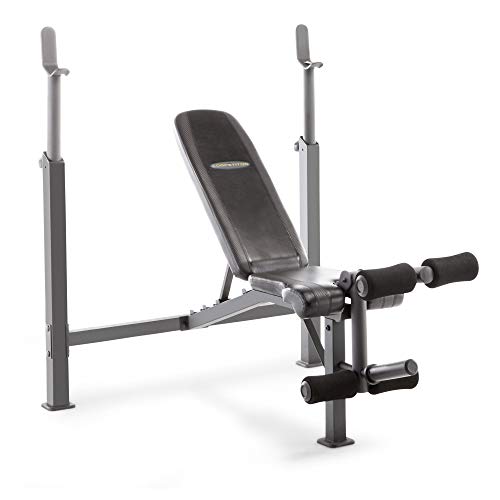 The Competitor weight bench is designed for use with Olympic size plates and bars. Five adjustable positions allow you to complete several different workouts in the inclined position. Steel tubular frame is strong enough to support 600 pounds total weight including the user. Extra padded backboard and leg developer offers additional comfort while working with heavy weights. Adjustable bar height allows you to choose the most comfortable position for the best workout.
Adjusts for incline, decline and military press positions almost instantly. The leg developer offers a dual purpose as a brace to optimize your workout. The overall size is 45 in wide x 50 in high x 67 in long, and it weighs 62 pounds.



Best Overall Weight Bench
Bowflex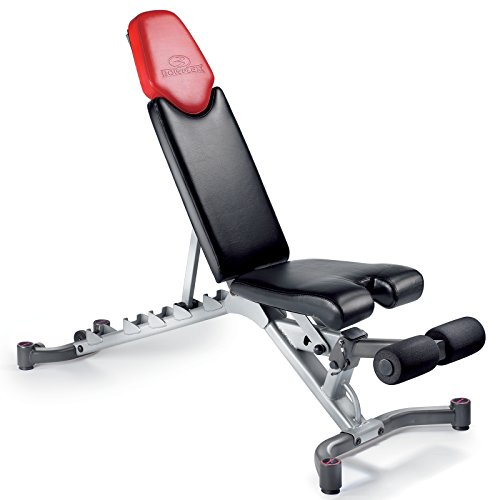 When you think of Bowflex, you probably think of the infomercial that made them famous 25 years ago. Bowflex expanded their line of products to cover just about everything weight training related, and they do it with high quality equipment and machines. This adjustable bench 5.1 can be used for over 30 different exercises, so you get more use out of the space it takes up. The overall footprint of this bench, however, is very small at just 56 in. x 26 in. x 20 in. and weighs 61.7 pounds.
Bowflex designed this bench for multiple workouts, and 6 different positions from -17 degree decline to +90 degree incline. Commercial quality steel makes the frame of this bench extremely tough, supporting users up to 300 pounds, and it includes a 30 year warranty on the frame. The padding and upholstery let you workout in comfort, and it includes a 2 year rip-free warranty. Removable leg brace will hold your legs down during an exercise. Bowflex offers an impressive 30 year warranty on the frame of this bench, and 2 years on the upholstery.



Best Budget Weight Bench
Universal by Nautilus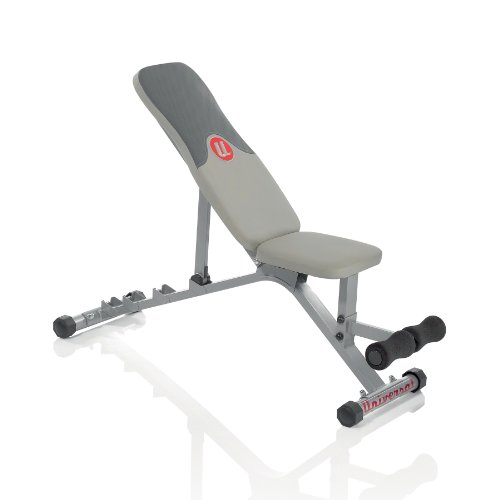 Nautilus makes this Universal multi-purpose weight bench, so you know the quality will be good. This bench adjusts to 5 positions -10 to 45 degrees for multiple workouts. Small design and stabilizer levers allow you to use this bench just about anywhere. Steel frame uses a tubular design capable of holding 430 total pounds, 250 pound weight limit for the user.
Industrial strength high density foam contributes to the comfort level you experience while using this weight bench. The foam covered 5 inch rollers provide you support for a safe workout. The overall dimensions of this weight bench are 17 inches wide x 25 inches high x 51 inches long, and the weight is 42 pounds. Universal includes a 30 day upholstery warranty and a 2 year frame warranty.