ELLIPTICAL MACHINE.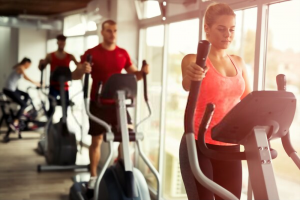 An elliptical machine is a type of equipment that is used for the purpose of exercising which combines an exercise bike, a treadmill, and the movements of a stair climber all into one exercise machine. The primary of this type of fitness trainer are the stride length, the resistance system, and the drive system. There are many benefits and therefore reasons to use an elliptical machine. To trace back about elliptical machine in days back, its not common because people prefer working out for exercise but most people are rushing elliptical machine for the best of it is on ground now at days. Ever since elliptical machines were introduced in the market, many people have sworn by it and these days, the designs and features have become increasingly more advanced. Those who have their own gyms at home have elliptical machines as part of their fitness routines. Basically, the main reason why its popularity increased over the years is that people have realized that it is such a convenient equipment as it provides a low impact total body workout. With just one piece of equipment, you can actually work out your entire body. It is perfect for those who are in need of cardio workout as well as those who have recurring injuries and even pregnant women too. The movement that you apply when working out on an elliptical machine is very similar to what you do when you are running or walking. That is why it is close to the normal or actual thing which makes it a lot easier for people to work with. Unlike using treadmills, this equipment lessens the impact it has on your joints which reduces the possibility of hurting yourself in the process.Most fitness equipments today that are available do not have low impact workouts. Most usually give more pressure on your joints which can make it more challenging. With this kind of machine, it can make you burn more calories quicker and it is definitely easier to use.Losing weight is all about commitment and the right equipment. Each way of exercising has its own pros and cons. Elliptical machines may not be as popular as treadmills but they are surely a safer way to work out. Plus, with its total body workout, no one would get bored easily with this kind of exercise. Without wasting most of our time, are the advantages of elliptical machines
ADVANTAGES OF ELLIPTICAL MACHINES
Although it is somewhat new to exercise enthusiasts, the elliptical machine has advantages over other types of fitness equipment that is contributing to its increased popularity. The machine continues to become more popular and may someday even surpass the very popular treadmill. The advantages of the elliptical trainer are why they are becoming so popular.
** This machine makes it possible for you to get an efficient workout in less time. The reason for this is that this exercise machine allows you to exercise both the lower and upper body at the same time.
** The exercise machine will give you an efficient workout that is very low impact. This is the reason that this machine is perfect for individuals who are older or who wants to maintain their current level of fitness or want to get in shape for the first time. They are also great for people who are rehabilitating from an injury. This means that there is virtually no risk of injuring any joint in your body including your ankles, knees, or back while you are exercising on this machine. Therefore, it is the ideal machine if you have a high risk of such injuries.
** since it does workout both the lower and upper body at the same time, it rapidly elevates the heart rate which permits a cardiovascular workout that is great. The heart muscle will be strengthened with consistent training on this machine. Therefore this reduces the risk of stroke, heart disease or heart attack.
** its offers your body's high metabolic rate. This will result in you burning calories and losing weight. When you increase your metabolism with exercise, even when you are done exercising, your body continues to burn off calories at an increased rate all through the day.
** There is also very little skill required to exercise on an elliptical machine. All you have to do is to place your feet in the foot pedals and start to pedal while your hands hold onto the moving handlebars. The machine will stop when you stop pedaling.
** Also elliptical training also tones and strengthens the muscles in your arms and legs. Your abdominal and back muscles will become stronger and you will feel and look better.
REASONE TO USE ELLIPTICAL MACHINE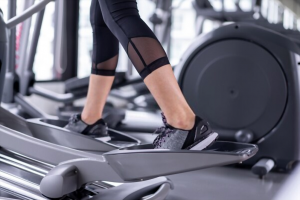 Probably the most important reasons to use this type of fitness trainer are that they are very low impact. This type of exerciser combines the benefits and movements of cycling, cross country skiing, and hiking. When you use this type of exerciser, your legs move in a circular motion that is elongated. When you use this type of trainer, the movement will feel fluid if it is of good quality. This is the reason why this type of exerciser provides a no impact workout that is safe for the joints. Other types of exercise equipment, such as the treadmill, cause you feet to impact with each step. This type of trainer is perfect for older people who want a no impact workout or for people who have joint, hip, knee, and back problems.
This resistance of type of trainer will help to fight off osteoporosis and help you to build better bone density, while providing you with a workout that has no impact. This type of fitness trainer will help to build and strengthen your lower legs because it uses all of the muscles of your lower legs. When you use this exerciser and move forward, you'll be working your gluteal muscles and quadriceps. There are some types of these exercisers that are available with handles that you can move back and forth to get an upper body workout as well. Therefore a person can get a cardiovascular workout as well as a full body workout all on the same fitness trainer.
This type of fitness trainer has also been shown to allow you to feel like you are putting out less effort while you are actually burning more calories. While you will feel as if you are simply coasting along you will actually be burning mare calories than if you were exercising on an exercise bike or a treadmill. Since this type of fitness machine is a combination of a stair climber and a stair climber they provide you with a great cross training ability.
These elliptical machines are easily stored away or moved for company because they are smaller than a treadmill. They are a great way to save space especially if you have a small home gym or no gym at all because they can be setup in your bedroom. And will provide you with a workout for your overall body.
Some of the Home and commercial elliptical machine are stated below for better clarifications.
The important features you need to consider when buying an elliptical home commercial machine are the brand, stride length, design, flywheel, entertainment options and console. There are several elliptical machines that are designed to give you the best experience possible.
Precor 5.37 EFX Elliptical: The first elliptical machine to discuss is at the helm of the price list. However, it is equipped with the best features that make it the best available anywhere both at home or for commercial reasons. This home elliptical machine has a distinctive convertible arms technology with twenty-two levels of electromagnetic resistance. It has fifteen varying ram angles and variable stride length. The manual, quick start, three intervals, four pre-programmed, four heart rate mode and three weight loss are the modes available with this model. This elliptical machine has a brand new heart monitoring meter that keeps you aware of your heart rate, though it's the best for home machine
Star Trek 4820: It is one of the most popular elliptical commercial trainer available on the market today. It offers highly professional workout routine right in the comfort of your living room. It has a rust proof metal body which offers and guarantee quiet and smooth workout so you don't interrupt the routine of other family members around you. You can easily transport it anywhere through its wheels and it is also equipped with an updated self-control power supply mechanism. its suite for home and commercial uses
Proteus 3088 Dual Action Elliptical Workout Machine: It offers up to nine programs including six preset, two HRC, and one manual. It is also equipped with an LED smart screen which displays every information. The smart screen display all the information about distance, speed, calorie, pulse and time. It smart system calculate your heart and pulse rate and automatically adjusts the elliptical machine thoroughly. It will also make sure that your pulse and heart rate is maintained throughout the workout time.
Star Trac 4805 ST: This best home elliptical machine gives you everything you need in your home based gym. It combines dynamic body training with strength exercises. It also offers wider and smoother foot movement for extra stability and range of motion. Star Trac 4805 is designed for smaller and low ceiling spaces. It has ten in built programs which can be increased to twelve on request at the store. You can also choose to use your pulse and heart rate meter with five heart rate control options.